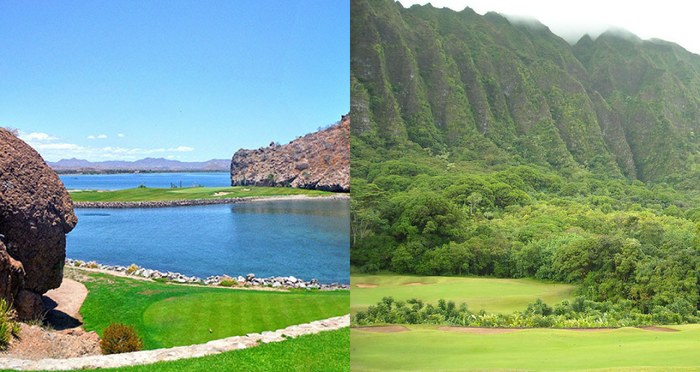 You might think playing the Glamorganshire is tough with a hangover, but some of these courses could get you killed. Very few golfers could pull off par on them.
Nullarbor Links in Australia
Nullarbor Links is the world's longest golf course. It stretches across 1,365 kilometres, over 18 different towns and roadhouses along the Eyre Highway in Australia. The par 72 course features water hazards, sand traps, and poisonous snakes to keep an eye out for.
The Lost City Golf Course in South Africa
Another massive course, the Lost City Golf Course is South Africa covers more than 100 hectares, with almost 7 acres of water hazards. If that's not tough enough for you, you should probably go in knowing that a lot of those water hazards are infested with alligators.
The Legend Golf and Safari Resort
The Legend Golf Resort in Limpopo, South Africa is more than just a golf course. It's also a wild game safari with lions, elephants, rhinos, and leopards just walking around the links like it's no big deal. On top of that (literally), one hole features a tee box 400m above the green on the edge of a cliff.
Falsterbo Golf Club in Sweden
The Falsterbo Golf Club sits at the very end of the Falsterbo peninsula in Sweden. That means that it's surrounded on three sides by pristine, azure seas. Needless to say, you'll probably lose a few balls in the drink.
The Himalayan Golf Club in Nepal
The Himalayan Golf Club features stunning views of the Bijayapur river running through the middle of the course, and the Himalayan mountains all around it. When you're building golf courses in the middle of Himalayan mountain ranges, you're bound to be tight on space, so several of the holes actually share greens.
Uummannaq Ice Golf Course in Greenland
Uummannaq, Greenland hosts an annual ice golf championship where players need to avoid both icebergs and hypothermia to compete. There is no formal course per se, but they still manage to host the 36 hole tournament (which takes place over 2 days) every year.
Camp Bonifas in The DMZ of North Korea
Dubbed "The World's Most Dangerous Course," Camp Bonifas is only 400m shy of the Korean Demilitarized Zone. The base features a one-hole course with an Astroturf green. Oh, and minefield. Lots of minefields.
Yas Links in Abu Dhabi
Yas Island is essentially a giant amusement park for adults in Abu Dhabi. It features an 18 hole course, an indoor Formula One Grand Prix racetrack, a Warner Brothers Amusement park, and a massive water park. At least, it will. The island resort is still being developed, so most of it only exists on blueprints right now.
Republished with grateful thanks to:
ADSO AND GOLF

ADSO is a specialist full service agency with high-end and creative solutions for the golf industry (clubs, courses, players, brands, …) with many years of work experience and, also, of playing golf, we put together what we love with what we do best.
Services we do: Consulting & Strategy, PR & Media, Branding, Sales & Management, Web & Social Media, Video, Golf Product Marketing, Content & Creative, Events.
ENGAGE // CONNECT // CONTACT
Email: jose@adso.pt
LinkedIn: www.linkedin.com/in/josevillacardoso
ADSO golf: http://adso.pt/golf
Facebook: http://bit.ly/ADSO-Facebook
YouTube: http://bit.ly/ADSO-YouTube